Frequently Asked Questions
Collapse All
Expand All
WHAT IS FITBIR?
The Federal Interagency Traumatic Brain Injury Research (FITBIR) Informatics System is a collaborative effort involving the NIH Institutes and Centers (ICs) and the US Army Medical Research and Development Command (USAMRDC) to develop a biomedical informatics system and data repository for Traumatic Brain Injury (TBI) research.
WHAT IS THE PURPOSE OF FITBIR?
The purpose of FITBIR is to help accelerate TBI research by creating an infrastructure that integrates heterogeneous datasets allowing access to much more quality research data than an investigator would be able to collect independently. Generally, FITBIR provides the following capabilities:
Standards to enable cross site meta-analysis and data comparisons across bioinformatics systems
Deployment of useful bioinformatics tools for researcher use
Promotion of the sharing of quality research data with the TBI research community
Query access to a repository of phenotypic, genomic, imaging and pedigree research data.
HOW DOES FITBIR WORK?
FITBIR uses a module system called BRICS (Biomedical Research Informatics Computing System). The BRICS system is a collaborative and extensible web-based system that uses a set of modular components to support the collection of research studies and clinical trials.These modules support the vision of interconnectivity and collaboration among the research communities, as well as, provide a combination of web-based functionality and downloadable tools that support data definition, data contribution, and data access throughout the research life cycle.
Please see User Guides for the modules, here.
WHAT ARE THE ORGANIZATIONAL RELATIONSHIPS AND GOVERNANCE FOR FITBIR?
FITBIR's overarching governance is comprised of a structure that ensures FITBIR's goals are conceived and executed via a framework that defines boundaries to ensure delivery of the strategic vision to the FITBIR stakeholder community. Each committee ensures the right stakeholders are engaged with the Publicis Sapient partners to shape the FITBIR project roadmap.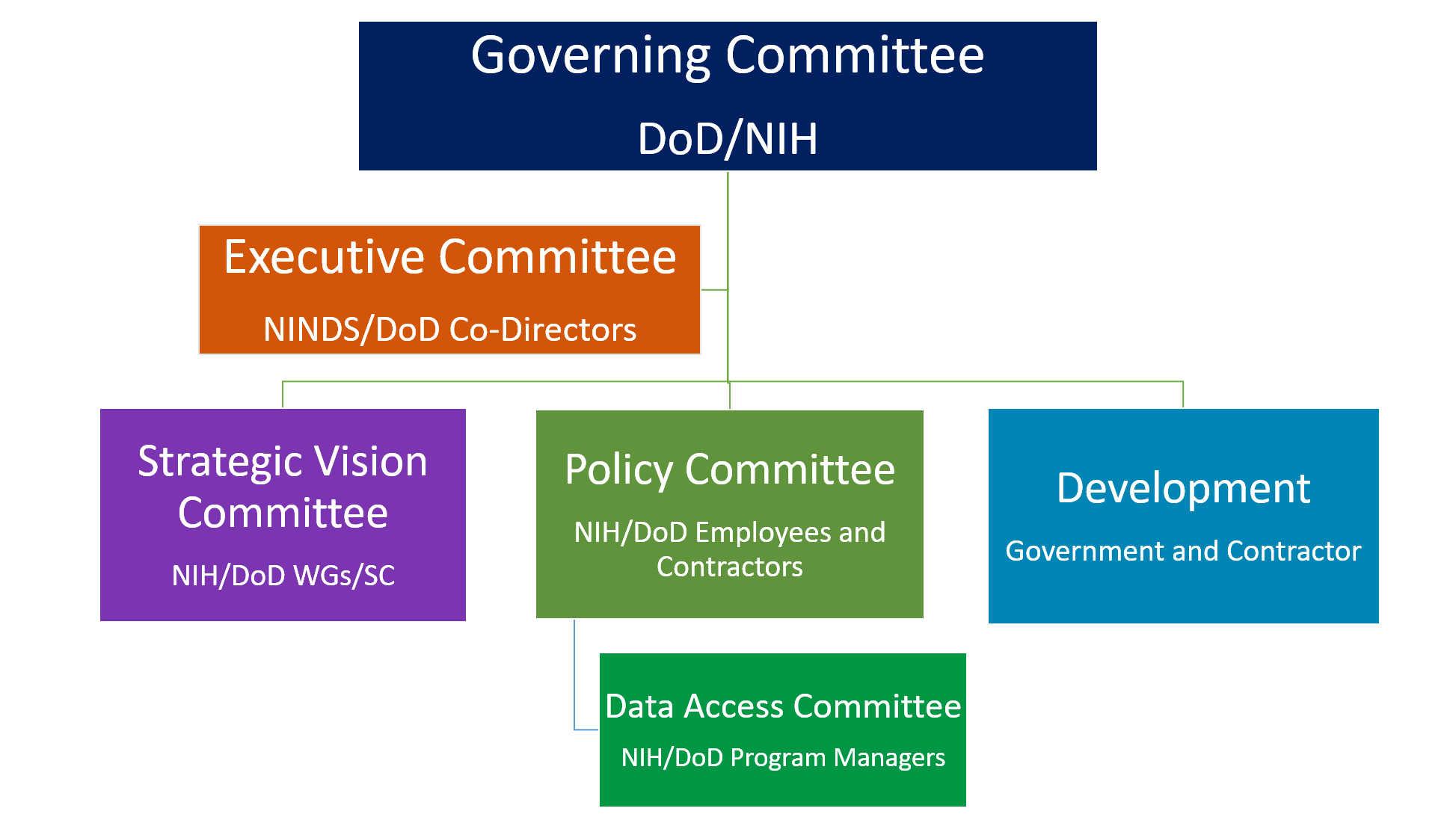 IS THE FITBIR POLICY AVAILABLE?
WHERE DOES FITBIR GET ITS DATA?
FITBIR stores data provided by TBI researchers. FITBIR accepts high quality research data from a number of projects, regardless of funding source and location, and is working to connect with relevant research repositories.
WHO CAN SUBMIT DATA TO FITBIR?
Any researcher who has acquired research data related to TBI may apply for approval to submit data to FITBIR.
IF I AM SUBMITTING AN APPLICATION TO THE NIH OR DOD FOR FUNDING, HOW SHOULD I INCLUDE FITBIR IN MY DATA SHARING PLANS?
All TBI or TBI-related applications for NIH/DOD funding are strongly encouraged to share their data with FITBIR (see solicitation for specific details). Applications should include a description of the principal investigator's intent to submit data to FITBIR, the type of data to be submitted and the anticipated time line for submissions. Clinical researchers must plan on utilizing the NINDS Common Data Elements (see www.commondataelements.ninds.nih.gov) and should plan to use the DOD definition of TBI. To support the costs associated with data submission, include the FITBIR Cost Model into the budget of your application.
FITBIR Submission Costs

Project Estimation Tool
HOW IS FITBIR FUNDED?
FITBIR is an informatics system and data repository developed by the Department of Defense (DOD) and the National Institutes of Health (NIH). The funding for FITBIR has been provided by USAMRDC through CCCRP with NIH providing contributions in staff and technical resources. For more information, refer to the Funding Organizations page.
DOES FITBIR HAVE PRE-CLINICAL DATA?
FITBIR does not currently house pre-clinical data. For more information on the development of pre-clinical CDEs click here.
HOW DO I GET TRAINING ON USING FITBIR?
There are several resources available for training and instruction on how to use FITBIR. Video tutorials are available for viewing. User guides are also available to review and download. Feel free to reach out to your FITBIR point of contact FITBIR-ops@mail.nih.gov if you would like additional instruction.
ACCOUNTS
The Accounts Module is where users can manage their account details, such as renewing their accounts, updating their passwords, uploading documents, and requesting new module privileges.
HOW TO RENEW FITBIR ACCOUNT?
HOW CAN I UPDATE MY FITBIR ACCOUNT?
Updates to the FITBIR account, such as profile edits, password changes, and requesting additional privileges, can be made in the "Account Management" module in FITBIR. 
CAN I SHARE MY ACCOUNT WITH ANOTHER USER?
As stated in the FITBIR Data Access Request and FITBIR Data Submission Request documents, users may not share FITBIR accounts. Anyone who would like to access FITBIR must complete their own documentation and request their own account. 
WHAT IS NEXT AFTER I REQUEST MY ACCOUNT ON FITBIR?
After an account request has been completed on the FITBIR site, it is reviewed by the FITBIR Data Access Committee. The FITBIR Data Access Committee consists of members of both the Department of Defense and National Institute of Neurological Disorders and Stroke. Both sides must review and approve the account request before the requester can be given privileges to the FITBIR system. The review process takes about three to five business days.
If the account is approved, the requester will receive an autogenerated email from FITBIR stating that the account privileges are now active. If the account request is not immediately approved, the requester will received a message from FITBIR stating the reason for not being approved and what needs to be provided by the requester in order to be reviewed again.
GUID (GLOBAL UNIQUE IDENTIFIER)
The Global  Unique Identifier (GUID), enables data to be associated with a research participant without exposing or transferring the research participant's personally identifiable information (PII). GUIDs are random alphanumeric characters that are not generated directly from PII. This capability provides two primary benefits. First, it allows data about a research participant to be accumulated across projects over time, regardless of where and when that data was collected. Secondly, it enables a researcher to define a study population while supporting a research hypothesis, even if the data was not collected by the researcher.
WHAT IS A PSEUDOGUID?
A PseudoGUID is unique ID that is not based on PII. If the study is unable to obtain necessary PII in order to generate the GUID for a study participant, a PseudoGUID can be requested. PseudoGUIDs can be converted to GUIDs if the necessary PII is available after the PseudoGUID has been created. 
NOTE: Please provide the following information in order to request PseudoGUIDs:
What PII is missing to prevent the creation of GUIDs?
Why is the PII missing?
Is the research team able to retrieve the information for the subjects?
Will the research team collect the required PII for future participants in the study?

What is the target population size for the study?

How many subjects are currently enrolled?

How many subjects need PseudoGUIDs?
HOW CAN I CREATE MULTIPLE GUIDS OR PSEUDOGUIDS?
Please refer to the 

GUID User Guide

 Section 6.4.2 for further instructions.

To generate multiple PseudoGUIDS, perform the following actions:

Navigate to the GUID Client Dialog Box. The GUID Client Dialog Box opens. Select Functions to open the drop-down menu. Select Create multiple PseudoGUIDs. The Generate PseudoGUID dialog box appears. Enter the number of PseudoGUIDs and click the Generate button. The "Your PseudoGUIDs are Ready" dialog box appears. Click Download Results and open file.

Prior to generating multiple PseudoGUIDs, study must obtain permission from Grant Funding Organization. 
HOW IS PII PROTECTED BY THE GUID TOOL?
The FITBIR GUID tool runs local on an individual's computer and no PII is ever transferred to FITBIR during the GUID creation process. The GUID client (on your personal computer) uses personally identifiable information to derive a series of one way hashes which securely encrypt PII information. One way hashes are sent off to the GUID server for reference and storage. No personally identifiable information is ever sent to the system. The GUID tool application has been operational several years with unique instances of the GUID tool being implemented in several projects such as NDAR, PDBP, and GRDR.
There is useful information about the GUID process here. Also, click here for a published paper talking about GUIDs for the NDAR program.
PROFORMS
The Protocol and Form Research Management System (ProFoRMS) module provides the tools for protocol management, data capture, and is a clinical trial/research module. Please review the ProFoRMSuser guide for additional information.
HOW TO USE PROFORMS?
The main function of ProFoRMS is to provide the tools that help to optimize the clinical study process, including the basic functions of managing protocols, subjects as well as data access and account management.
WHAT ARE E-FORMS?
E-forms are electronic versions of the form structures found within the FITBIR Data Dictionary. Unique E-forms can be created by users who are given the necessary E-form account permissions.
HOW CAN I FIND E-FORMS?
E-Forms are found within the Data Dictionary.
CAN PARTICIPANTS COMPLETE THEIR OWN DATA COLLECTION?
Yes, with the necessary administrative account privileges, users can allow patient self-reporting within their study protocol.
DATA DICTIONARY
The FITBIR Data Dictionary incorporates and extends the Common Data Element (CDE) definitions developed by the NINDS (National Institute of Neurological Disorders and Stroke) CDE Workgroup. The Data Dictionary also allows investigators to define the data they submit as well as provide alternate terms (aliasing) and translation rules for the same element. Occasionally, research data may not align perfectly to the Common Data Elements. In this case, researchers may extend the Data Dictionary and create unique data elements (UDEs) with permission from FITBIR Program.
WHAT TYPE OF THE DATA IS IN FITBIR AND WILL THE DATA BE EXPANDED OVER TIME?
The FITBIR Informatics System includes a full range of data from TBI patients and controls enrolled in studies funded by the DoD and NIH. The data that is included in the FITBIR system includes imaging, clinical assessments and omics data. FITBIR continually works with teams to submit their data with the intention to share with other FITBIR data access users.
WHAT IF I NEED TO CREATE A UNIQUE DATA ELEMENT THAT DOES NOT EXIST IN THE FITBIR DATA DICTIONARY?
Both the DoD and NIH strongly recommend CDE compliance for all clinical TBI studies, particularly those with a FITBIR data submission requirement. Moreover, it is highly recommended that investigators align their non-outcome measures with existing non-outcome CDE forms that have been developed and are available at the NINDS CDE website or through FITBIR. For any grant with a FITBIR data submission requirement, non-compliance with NINDS CDEs will require programmatic approval. Studies investigating outcomes outside of the TBI CDEs should use NINDS CDEs found in other disease areas or through searching the FITBIR Data Dictionary that has over 400 standardized forms available. As with non-CDE usage, incorporating non-TBI CDEs requires prior Programmatic approval.
Please reach out to your FITBIR Point of Contact for additional guidance.
Updated Policy Information (07/06/2017) can be found here.
DATA REPOSITORY
The Data Repository module is the central hub of the BRICS system, providing functionality for defining and managing study information, and for contributing, uploading, and storing the research data associated with each study.
WHEN IS DATA AVAILABLE FOR USERS TO ACCESS?
Twelve months after the award period ends, data and supporting materials will be open to all qualified and approved researchers. Please visit FITBIR's Policy page for documents pertaining to sharing policy and data access.
I AM A PI AND MY STUDY HAS BEEN SHARED. HOW CAN I SEE WHO HAS DOWNLOADED BY DATA?
If your FITBIR account credentials are up to date, you may view your Data Access Report located in your study profile in the Data Repository. This table shows you who accessed your data, when they did, how many records were downloaded, and if it was accessed through the Data Repository or Query Tool.
WHAT STUDIES DO USERS HAVE ACCESS TO?
Users have access to all shared studies as well as their own. If you have Data Access privileges you may access data through the Data Repository and Query Tool. If you have Data Submission privileges you may access data through the Data Repository.
WHAT ARE THE EXTRA VALIDATION RULES?
A subset of form structures in the data dictionary are now subject to extra-validation rules when submitting data against them.
QUERY TOOL
The query tool provides the ability to aggregate and filter research data from studies located in the Data Repository.
WHAT IS A FLATTENED CSV?
CSV stands for Comma-Separated Values. From the query tool, users can download data in two formats, "flattened" and "unflattened" CSVs. The "flattened" CSV creates additional data element columns for repeatable group data whereas the "unflattened" CSV retains the original data element group structure and provides the repeatable group data within the rows of the CSV (as how it appears in the data table within the Query Tool).
WHICH STUDIES DO USERS HAVE ACCESS TO?
Users have access to all shared studies and any studies that they have been granted permission to view.
META STUDY
The Meta Study module allows users to create a study that contains findings from other studies, which can be used by researchers to conduct additional analysis.
HOW CAN I SUBMIT MY ANALYSIS THROUGH META STUDY?
If your account has been approved for access to the Meta Study module, you may begin the process of creating a meta study. To create a meta study within the module you must fill out the mandatory fields then click the submit button. Your study request will be reviewed by a system administrator. Once the system administrator approves your request, you can start submitting data to the study. Please see the User Guide page for more in depth information on creating a Meta Study.
WHAT CAN BE STORED IN THE META STUDY?
The Meta Study stores your study overview and information, defined queries or data artifacts, and additional documentation. Meta Study may also be used as a means for storing and referencing (via DOI) results of analysis that are not otherwise in the BRICS system.
WHAT ARE THE SECURITY STANDARDS USED BY THE FITBIR SYSTEM?
The BRICS system is Federal Information Security Management Act (FISMA) moderate compliant and implements the appropriate National Institute of Standards and Technology (NIST) security controls (NIST 800-53) and is certified for Title 21 CFR Part 11 of the Code of Federal Regulations 

.
FITBIR as a BRICS derived system, inherits all of BRICS security and certification controls. The FITBIR system is rated FISMA moderate and implements the appropriate NIST 800-53 security controls.
IS THERE INFORMATION AVAILABLE FOR THE TECHNICAL INFRASTRUCTURE AND THE SOFTWARE DEVELOPMENT PROCESSES USED BY FITBIR?
Information on the technical infrastructure is available in the System Design Document 

.
The BRICS Development Processes contains details for the development processes and has the following documents:  E-Signature Security Policy, Master Test Plan, Report on 21 CFR Part 11 Compliance, Software Development Process, System Requirements Specification, System Access Logs and User Guidelines.
REDCap ENABLED DATA ELEMENTS
FITBIR is aware of the wide usage of REDCap among investigators and study teams. FITBIR provides a REDCap Data Element report guide in the form of a CSV file which is in 80% alignment with the REDCap standard. FITBIR form structures allow for repeatable groups where one column can be used to collect data. For example, blood pressure taken at multiple time periods during an appointment could be recorded in FITIBR using one column, whereas REDCap requires each point the blood pressure is taken to have a new column to record data. Further refinement and data cleanup of the CSV file is needed in order to upload correctly into the REDCap system.
BIOSPECIMEN ACCESS
What is the intended usage of the biosamples available?
Overall, the intended use of the biosamples represented by the various cohorts is for Traumatic Brain Injury (TBI) biomarker discovery, optimization, and replication.
What cohorts and biosamples can be accessed?
The cohorts and associated biosamples that can currently be accessed include: LETBI. Additional cohorts will be available later in 2022.
Am I eligible to request biosamples?
Yes, we welcome applications by investigators from academia and industry from US and non-US institutions.
What if I'm only interested in the clinical assessments and biological data available for biosamples?
Please find study-specific instructions for accessing clinical and biologic data from the cohorts available through the TBI Biosample Resource Allocation Committee (BRAC) below:
The best way to access the clinical and biological data available for FITBIR biosamples to is request an account, as described here.
What is the process for applying for biosample access?
We have outlined the general steps on how to apply here. First, we encourage you to learn about the different cohorts and the types of biosamples available through the different websites, as listed. We also recommend contacting staff to find out the availability of samples that fit your exclusion-inclusion criteria. Once you have determined whether the samples you need are available, your next step is to submit an online application. Your application will then be reviewed by the TBI-BRAC and will receive a decision of approved, to be approved upon satisfactory revision, or denied.
What is required in the online application?
Within the webform, applicants are required to upload these documents: a biosketch, Research Strategy (4 page limit), and a table summary of samples of Interest. The first page of the webform requires the investigator to fill in basic information (e.g. name, institution, address) and to upload the biosketch. The second page of the webform requires the investigator to upload the application files (Research Strategy and Table Summary) and to provide information about funding support for the study.
Who reviews the applications?
The TBI Biosample Resource Access Committee (BRAC) reviews the applications for biosample access and its members are listed here. TBI-BRAC reviewers are required to avoid any real or perceived conflict of interest and subscribe to the ethical requirements as described within the Conflict of Interest document. The BRAC Review is coordinated by Christine Swanson-Fischer, Ph.D
What are the deadlines for submission?
The TBI Biosample Resource Access Committee (BRAC) meets approximately 5 times a year. Specific submission time windows and review dates are listed here.
How long will it take to find out about approval for biosample access?
Investigators will be notified by email the outcome of the review (i.e. approve, approve upon revisions, or deny) within a week after the review meeting. Summary statements are released within 2-3 weeks after review. For applications that were ʻapproved upon revision', investigators will be notified about concerns that would need to be addressed before the application could move forward.
What are the criteria used by the BRAC for approval of a sample request?
Review priorities include the experimental rationale, feasibility/reproducibility of the assays, expertise of the investigator, availability of institutional resources to support the study, and the statistical analysis of the number of samples required for hypothesis testing:

The TBI-BRAC uses the following guide questions when considering a sample request:
Is there sufficient evidence supporting the likelihood of this study identifying novel biomarkers or of otherwise contributing important knowledge regarding disease etiology, pathogenesis, diagnosis, or treatment?
Is the project technically feasible and, if preliminary data is provided, does the assay/platform utilized provide robust and reproducible results?
Do the investigators sufficiently justify the use of the resources?
Do the investigators have the expertise, personnel, and institutional setting to achieve the goals of the proposal?
Is the number of samples requested reasonable and sufficiently powered to achieve statistical significance for hypothesis testing and to demonstrate conservation of the resource (i.e. are the number of samples requested sufficient but not in excess of what is needed)? The NINDS FITBIR staff will provide information on available inventory.
What happens next when my application gets approved?
This depends whether the study has funding or not:
If the study has funding, the samples are distributed to the investigator following a virtual meeting to introduce the sample distribution process ("on-boarding") and after fulfillment by the investigator of the additional requirements specified by the selected repository (i.e. MTA, Data Use Agreement, fees, data analysis and sharing plan). For questions, please contact Christine Swanson-Fischer, PhD.
If the investigator has yet to obtain funding for the study, the BRAC will issue a letter to the applicant documenting provisional access to the samples requested. This letter can be used to support an application for funding opportunities from the NIH or other organizations. Conditional approvals will be valid for a period of up to 9 months.
What should I do next if my application needs revision?
You will receive an email from the TBI-BRAC Coordinator summarizing the reviewers' critiques about your application. You will need to address these critiques by email and your response will be sent back to the reviewers to be evaluated.
What should I do if my application is denied?
You are welcome to re-apply if you feel you will be able to adequately address the flaws identified in your summary statement.
Do you provide funding?
We do not provide funding. Also, samples are released only if the investigator has demonstrated funding for the proposed study through a signed letter by the investigator's Authorized Institutional Signing Official.
What if I do not currently have funding for biomarker research?
You can still apply for biosample access, especially if your upcoming grant application needs a letter of support documenting approval of access to biosamples if funded. Thus, if your application is approved by the TBI-BRAC, a provisional letter of approval will be provided for your grant application.
Where do I get funding?
For NINDS funding opportunities, the investigator is encouraged to contact Nsini Umoh for more information.
Are there any additional considerations once biosample access is approved by the BRAC?
Each cohort may have additional documentation requirements such as a Biospecimen Use Agreement, Data Use Agreement, and/or Publication Policy, which must be acknowledged and received before samples are sent to the requestor. Specific contact information for each cohort represented under the TBI-BRAC can be found at this website.

NOTE: One condition to receive TBI-BRAC approved biospecimens is the return of data to a database associated with each TBI cohort (i.e. FITBIR). There is an embargo period associated with each database, allowing time for investigators to publish their data before data is made available to the scientific community.
What happens during the on-boarding process?
Within 7 days after demonstration of funding and formal TBI-BRAC approval, the investigator will be contacted by the Post-BRAC coordinator, Christine Swanson-Fischer, PhD, to schedule an on-boarding webinar teleconference with NINDS, BioSEND, FITBIR Operations (for FITBIR study cohort). This introductory call will review the process for distributing biosamples to the investigator such as:
Material Transfer Agreement (MTA)
Sample selection
Any balancing requirements for assay
Blinded sample distribution
Distribution of reference pool biosamples for quality control
Return of data and methods documentation
What are reference pools?
Biospecimen reference pools including CSF, plasma, and serum (depending on the TBI cohort) are generated from residual volume. The goal is to provide researchers access to shared reference samples that can be used for normalization and standardization across sites, platforms and assays.
I have questions that were not addressed. Who do I contact?